Set between the Selkirk and Rocky mountains in southeastern BC, Kimberley Alpine Resort is known for its sunny disposition. And why not — when you receive more bluebird days than any other resort in the province, you can't help but spread the warmth, and the wealth. Here, all ages and abilities flock to runs that shoot through open glades, while the Easter Bowl, on the mountain's backside, promises seemingly non-stop fall lines and heart-thrumming steeps. For smoother cruising, stick to the front face of the mountain where powder-packed runs, including a brand new green run dubbed Alpine Slide, will deliver less torque and more opportunity to take in the terrain. Bonus: making tracks on this side will deliver you to the front steps of Kimberley's bustling après-ski action. Come day's end, you'll dig into locally inspired dishes — just don't forget to raise a glass. After all, Kimberley's forecast promises nothing but sunny skies!
When it comes to family fun in BC, Kimberley Alpine Resort, near Cranbrook, sets a beguiling scene — both on and off the slopes. To start, little ones
can point their tips along Kimberley's Kids Trail, a cool way for pint-sized powderhounds to make their own tracks through the woods. Be advised: adults encouraged to follow along would do well to maintain a tuck position or risk knocking their helmets on overhanging branches. (No parent wants to join the ranks of the "Dummies in the Trees," a.k.a. festive "characters" hidden throughout the resort that, when discovered, elicit a gleeful shriek from Kimberley's smallest skiers and boarders.)  Off slope offers no less with Kimberley's Kids Learning Area adjacent ski-in/ski-out accommodations and slopeside hot tubs, ensuring that parents can watch their kids ski while soaking up the mountain ambiance. And come nightfall, the resort's village skating pond will illuminate an evening of spins and jumps, topped off with a crackling bonfire perfect for marshmallow roasts.
Now for the real Glade story, the local's tip;
Our favourite run is called Geneva in the black forest, a long "black" leg burner with very interesting and variable terrain. It's the first stop after a large overnight powder dump.
We're glade you came, and we're sure you'll be glade you came as well!
Kimberley – Small Town Charm/Big Mountain Experience
Kimberley is cute.  There is no other way to put it.  Actually, there is – Kimberley is quaint, adorable, homey, comfortable, charming, pleasant and just plain delightful.  Its atmosphere gives you those warm and fuzzy feelings you only get from places you truly love.
If you're looking for a resort village and nearby town to get away from regular city life – all the traffic, the full calendars and all things marked 'urgent', Kimberley is the place for you, it's a genuine Canadian ski town with a laid back atmosphere offering a large variety of places (indoor and outdoor) to explore.  Stay on mountain for a ski getaway everyone dreams of – wake up on the mountain, enjoy the slopes right outside your door during the day and dine and/or dance your night away at one of the many on mountain bars or restaurants.
Did you know?  Kimberley is known as the sunniest ski resort in B.C?  It's true, at Kimberley we get most sunny days than anyone else in the region!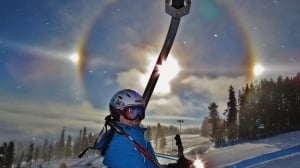 Along with that sunshine also comes some amazing views and vistas like this sundog spotted last year (not the first and we expect not that last we'll have here)!
Another plus to Kimberley – it's off the beaten path while not being off the beaten path at the same time!  It's super easy to get to with the new Integra Air flight called "Spirit of the Kootenays" flying multiple times weekly during the ski season from YYC to YXC.  YXC (Cranbrook international airport) is just half an hour away from the resort. Have you ever wanted to fly & ski in the same day?  At Kimberley you can!
Have you been convinced to visit yet?  If not, this will do it – how about 80 roomy, uncrowded runs and over 1800 acres of skiable terrain to tour, family events all season contributing to Kimberley being voted A family favourite ski resort, on mountain skating rink and live après concerts every weekend!  Ya, that should do it!
Now that you're going to visit Kimberley here is an exclusive tip from a local, just for you "our favourite run is called Geneva in the black forest, a long "black" leg burner with very interesting and variable terrain. It's the first stop after a large overnight powder dump.  Also hit up the Tamarack chair for a bunch of terrain which few people ski on!
See you soon!
Words by Cali Sammel
Photos by Roland Gaschen & The Real Mckenzie Photography
Ski Under the Stars at Kimberley Alpine Resort
Ski under the stars on the longest lit run in North America!    Night skiing runs every night from December 26 to January 6, and then runs every Thursday, Friday and Saturday night through March 10.  The Northstar Quad starts running at 5:30pm and closes at 8:30pm.
If you're like me (and many other snowboarders out there), you're a weird-ish combination of someone who loves the mountains mixed with a space
nerd.  Which really, when I give it a second though, isn't that strange of a combination – the mountains are majestic and mysterious, not unlike outer space.  Maybe it's easier than I thought to see where the interests come from.
It's for that reason, Kimberley Alpine Resort is one of my favourite ski resorts, not because of the ridiculously cute mountain village, not because of the amount of sunshine and not because of the amazing Canadian mountain town atmosphere (although all of these awesome things are nothing to shake a stick at).  Kimberley is one of my favourite resorts because of the night skiing.
Whether you're into space or not, one view that has the ability to make nearly every human feel close to nature and hopelessly insignificant (in a good way) at the same time, is the view of the stars at night.  At Kimberley Alpine Resort, you're already far away from the hustle and bustle of the city as well as the city lights.  Kimberley is a small town giving
you a great view of the sky and with many clear days to go along with the night skiing, running nearly all season, it's your best bet to get the absolute most skiing in possible while admiring the scenery from the top of the mountain.
At Kimberley – night skiing is included on every full day lift ticket purchased (during night skiing hours) or a night skiing season pass, cleverly called The Night Rider is available from guest services.  Also hosted throughout the season are Night Race series and Rail Jams.  Combine night skiing with the on mountain bar and lodging – this is one ski resort that will leave you no desire to return to the city life (and the lack of visible stars).
Words by Cali Sammel
Photos by The Real McKenzie Photography & Vinnie Mo