Kimberley is cute.  There is no other way to put it.  Actually, there is – Kimberley is quaint, adorable, homey, comfortable, charming, pleasant and just plain delightful.  Its atmosphere gives you those warm and fuzzy feelings you only get from places you truly love.
If you're looking for a resort village and nearby town to get away from regular city life – all the traffic, the full calendars and all things marked 'urgent', Kimberley is the place for you, it's a genuine Canadian ski town with a laid back atmosphere offering a large variety of places (indoor and outdoor) to explore.  Stay on mountain for a ski getaway everyone dreams of – wake up on the mountain, enjoy the slopes right outside your door during the day and dine and/or dance your night away at one of the many on mountain bars or restaurants.
Did you know?  Kimberley is known as the sunniest ski resort in B.C?  It's true, at Kimberley we get most sunny days than anyone else in the region!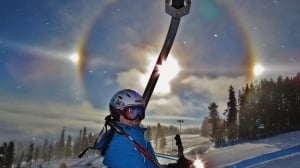 Along with that sunshine also comes some amazing views and vistas like this sundog spotted last year (not the first and we expect not that last we'll have here)!
Another plus to Kimberley – it's off the beaten path while not being off the beaten path at the same time!  It's super easy to get to with the new Integra Air flight called "Spirit of the Kootenays" flying multiple times weekly during the ski season from YYC to YXC.  YXC (Cranbrook international airport) is just half an hour away from the resort. Have you ever wanted to fly & ski in the same day?  At Kimberley you can!
Have you been convinced to visit yet?  If not, this will do it – how about 80 roomy, uncrowded runs and over 1800 acres of skiable terrain to tour, family events all season contributing to Kimberley being voted A family favourite ski resort, on mountain skating rink and live après concerts every weekend!  Ya, that should do it!
Now that you're going to visit Kimberley here is an exclusive tip from a local, just for you "our favourite run is called Geneva in the black forest, a long "black" leg burner with very interesting and variable terrain. It's the first stop after a large overnight powder dump.  Also hit up the Tamarack chair for a bunch of terrain which few people ski on!
See you soon!
Words by Cali Sammel
Photos by Roland Gaschen & The Real Mckenzie Photography
Comments
comments